Children used to play outside, video games appeared as Lego pieces on TV screens, and the mullet wasn't a retro style in the 1980s. The 1980s were also a heyday for the entertainment industry, with countless classic films and TV shows being produced.
Even just seeing the names and faces of these actors can take someone back to their formative years because of the iconic nature of some of the roles they played in the 1980s. Don't you just feel the urge to dust off that worn-out jean jacket and Walkman and head to the mall after watching Marty McFly, Ferris Bueller, Sixteen Candles, and The Brat Pack?
Well, considering that we haven't heard from some of the actors and actresses from our favorite 1980s films and television shows in a while, they may have actually gotten stuck in that era. What happened to some of the most recognizable, but possibly forgotten, 1980s celebrities?
Jami Gertz
In the 1980s, Jami Gertz starred in a number of cult classics, including Sixteen Candles, Crossroads, and The Lost Boys. Beyond that, though, she didn't really succeed as a lead in movies or films.
Surprisingly, she chose not to accept the Monica role on Friends in the end. She made cameo appearances on popular shows like Seinfeld, Ally McBeal, and ER in the 1990s and the early 2000s. At the moment, Gertz owns a small portion of the NBA team, the Atlanta Hawks.
Patsy Kensit
An English actress, singer, and model by the name of Patsy Kensit. She gained the most notoriety as the band Eighth Wonder's lead singer prior to beginning her acting career. She made her acting debut in the 1986 musical Absolute Beginners, and she later played Mel Gibson's love interest in the sequel Lethal Weapon 2.
Before the band Eighth Wonder disbanded in 1989, she successfully balanced her dual careers as a singer and actress for years. In the 1990s, she appeared in sporadic indie films. In March 2021, the actress appeared on Richard Osman's House of Games.
Olivia D'Abo
Olivia d'Abo played Kevin Arnold's older, free-spirited hippie sister for four seasons of the popular television series The Wonder Years. She didn't really have any more notable roles until the drama Law & Order: Criminal Intent in the 2000s, where she played serial killer Nicole Wallace.
She has provided the voice for several animated films, including The Legend of Tarzan and Star Wars: The Clone Wars, where she plays Jane and Luminara Unduli, respectively. D'abo is renowned as a singer-songwriter, guitarist, and pianist in addition to his acting career.
Wil Wheaton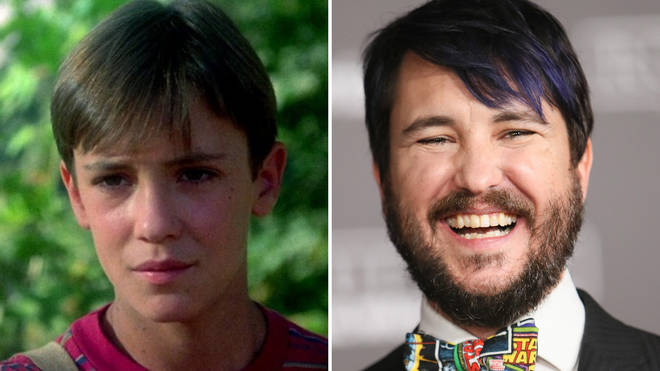 With his role as one of four neighborhood friends in the timeless coming-of-age film Stand By Me, Wil Wheaton rose to fame. When Wheaton was chosen to play Wesley Crusher on Star Trek: The Next Generation, he gained more notoriety the following year.
He was never able to break out of his Star Trek character type, but he did use that iconic role for comedic effect during more than a dozen appearances on The Big Bang Theory. He is currently the host of the reality program Rival Speak.
Kelly McGillis
Kelly McGillis experienced a sudden rise in popularity as a result of her roles opposite renowned leading men. She first starred in Witness alongside Harrison Ford. but left a lasting impression on popular culture because of the instructor Maverick, played by Tom Cruise, in the action-packed Top Gun.
She primarily performed in national plays during the 1990s and 2000s. She has occasionally appeared in films and on television, such as on an episode of The L Word. Additionally, she has taught acting at the New York Studio for Stage and Screen NYS3 and worked full-time with addicts at the Seabrook House Drug and Alcohol Rehab Center.
Olivia Newton-John
When she starred alongside John Travolta in the 1978 movie version of the Broadway musical Grease, Olivia Newton-John cemented her status as an icon. Her three top 5 singles, "Hopelessly Devoted To You," "Summer Nights," and "You're The One That I Want," were made possible by the soundtrack to the movie.
Newton-most John's popular album, Physical, was released in 1981, a few years after Grease. The title track was quite popular but also avoided by some due to its suggestive lyrics. She has openly spoken about her struggles with breast cancer and her support for the use of medical marijuana.
Jennifer Beals
Jennifer Beals received a Golden Globe nomination for Best Actress for her memorable performance as Alex Owns in the blockbuster film Flashdance.
She has appeared in more than 70 episodes of The L Word in addition to that role. She has also more recently played one of the leads on the show Taken, in addition to roles in The Grudge 2 and The Book of Eli.
Kiefer Sutherland
After portraying Ace Merrill in Stand By Me as well, Sutherland received his big break in The Lost Boys. In the thriller TV series 24, where he portrays a counterterrorism agent attempting to thwart urgent threats, he is best known for his role as the action hero Jack Bauer.
Following 24 he starred in Designated Survivor for two years, where his character was thrown into the Presidency after the chain of succession. He will play FDR in The First Lady, a Showtime anthology series, as well as the reboot of the classic show The Fugitive in 2020.
Claudia Wells
After playing Jennifer Parker, Marty McFly's girlfriend, in the first Back to the Future, Claudia Wells took a break from acting to take care of her mother, who had been given a cancer diagnosis. The actress finally got to provide the character's voice in the video game after 26 years.
She has actually appeared in a few movies, the most recent being the slasher Room & Board. Wells now runs an apparel store called Armani Wells without doing too much acting.
Jennifer Grey
Because of a few memorable performances, Jennifer Grey is undoubtedly a household name from the 1980s. She gained notoriety as Matthew Broderick's envious younger sister in Ferris Bueller's Day Off after making her acting debut in Reckless.
Her most recognizable performance was as "Baby," Patrick Swayze's dance partner in the film Dirty Dancing. Nobody should put Baby in the corner, so it shouldn't come as a surprise that Grey won the 2010 season of Dancing With The Stars.
Justine Bateman
Justine Bateman achieved success as a teen after Michael J. Fox cast her in the hit sitcom Family Ties. She co-starred in the 1988 film Satisfaction with Julia Roberts, and that same year she also served as a guest host on Saturday Night Live.
She played the lead role in the one-season NBC comedy series Men Behaving Badly in the middle of the 1990s. She started writing and eventually directed, produced, and wrote the short film Five Minutes, which was screened at the Toronto International Film Festival in 2007. She will also be writing and directing Violet, her first feature-length movie, which will be released in 2021.
Emilio Estevez
Emilio Estevez was raised in a famous Hollywood family, including his father Martin Sheen and brother Charlie Sheen. His iconic performances in The Breakfast Club and St. Elmo's Fire helped him establish himself as a 1980s star.
Estevez demonstrated his acting prowess in The Outsiders, giving another standout performance. He became successful after appearing in the megahit series The Mighty Ducks. Later on, he would go on to direct a number of films, including The Way and The Public.
Meg Ryan
Meg Ryan is perhaps best known for costarring with Billy Crystal in When Harry Met Sally, one of the most well-known romantic comedies of all time. One of the most famous scenes in movie history is her standout performance as a woman in the throes of passion during lunch.
In the hit movies Joe Versus The Volcano, You've Got Mail, and Sleepless in Seattle, she paired up with actor Tom Hanks. She has made the decision to step behind the camera since the 2010s, acting in more independent films. Ithaca marks her debut as a director.
Brooke Shields
After her well-received performance in Blue Lagoon, which came only a few years after she co-starred with Susan Sarandon in Pretty Baby, Brooke Shields became well-known in popular culture.
She went on to become well-known and had her own TV show, Suddenly Susan, in the late 1990s. She has additionally made appearances in supporting roles on programs like The Middle and Jane the Virgin. She has appeared on The Today Show as a vegan and animal rights advocate today.
Michael J. Fox
Back to the Future is one of the most recognizable movies from the 1980s. Through his iconic portrayal of Marty McFly in the classic trilogy and in the blockbuster film Teen Wolf, Michael J. Fox cemented his place in popular culture history.
Fox rose to fame by portraying Alex P. Keaton on the hit series Family Ties. He later went on to star in the sitcom Spin City in the late 1990s. Fox actively participates in ongoing studies to find a treatment for Parkinson's, a condition that has made him act less and less.